PRESS RELEASE
For Immediate Release
BIG CROWDS Abound at ZURKO'S Massive Grayslake ANTIQUE & Vintage Market!
Hosting the DISCOVERY CHANNEL-International
"Vintage Tech Hunters"-TV Series
GRAYSLAKE, ILLINOIS (Lake County Fairgrounds)-After 48 years in the Antique Promotion Business; ZURKO'S Midwest Promotions was honored to host a segment of the DISCOVERY CHANNEL's International "Vintage Tech Hunters- "TV Series".  To be distributed-WORLDWIDE, the show's focus is on the Newest & Hottest collectibles in VINTAGE TECHNOLOGY!  The filming took place at the Lake County Fairgrounds during ZURKO'S, monthly Antique & Vintage Market on Sunday in May by ZURKO Promotions in Grayslake, Illinois (a Chicago Suburb).  The "TECH HUNTER'S" focused their hunt on early TV's, Movie cameras & projectors, Old telephones, wooden table-top pin ball machines, early neon, mechanical toys, radios, kitchen gadgets and much more!
Treasures abound, thru-out the 62,000 sq. ft. heated & air-conditioned, GRAND EVENT CENTER, and outdoors!  Bill Rawski proprietor of "Zap Props" brought an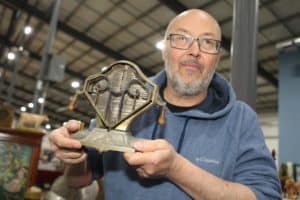 eclectic mix of early tech stuff including old table-top mechanical pinball machines, collectible neon signs, a 1960's pedal motorcycle, awesome table-top electric fans, mechanical banks, wind-up vintage toys and much more!  Bill who has been regular shopper & dealer for many years at ZURKO'S Markets stated "This has always been a great place to find treasures & hunt for great decorator items & things to add to your collection.  Bob Zurko stated that, "Bill is a pioneer in the Antique Business", and it is always a pleasure to have him at our shows!
Tom and Nancy Actipes of IAANA, Inc. had a super variety of telephones from $15.00 to $200.00.  They had an awesome pay phone that was set-up for home use.  A real working treasure that would add charm to any decorators' heart.  Their selection of old cameras & projectors was second to none.  The old Polaroid cameras ranged in price from $25.00 to $125.00. One of the highlights of their awesome collection was a 'VICEVERSH"-Art Deco Toaster, reasonably priced at $75.00 in mint condition.  Tom and Nancy left no stone unturned in their offering of Vintage technology, for the beginning buyer to the astute collector!
Vintage TECH COLLECTOR'S hit the JACKPOT at Allen Bergh's- "Allen's Restorations" booth filled with an awesome variety of vintage TV's.  Some of the rarely seen TV's included; PILOT 1950's, 2 1/2 "TV; the miniature 1967 SYMPHONIC Portable TV; a 1938 MILL'S Castle top Slot-Machine, professionally restored by Mr. Berg.  Artfully displayed with a variety of gorgeous mannequins was a 1953 PHILCO PREDICTA: a 1955 ZENITH, "ULTRA MODERN"21" console TV., a variety of hard to find OSCILLOSCOPES (used for aligning TV's after rewinding) $200.00-$300.00.  The highlight of the show Allen Bergh's booth was a RARE "JOHANN STRAUBB", 1950'S KALAPHONE VIOLIN.
The epitome of vintage technology was Dave Kuffel's, 1941 "Woodie-Wagon" with original wood completely, restored with 80,000 original miles for sale for $79,500.00. A Rare treasure indeed!
Not to be outdone, astute dealer of rare & collectible Transportation toys, James Zemanek offered a great variety of collectible toys, in awesome condition; like Tootsie Toys, Renwal, Hubley, Kiddie-Toy plastic, Buddy-L, Keystone & much more!  Jim will continue to offer a great selection of quality toys for the toy collectors buying pleasure! "Mancave Accessories" offered a 1989 Seeburg MP3 files, laser music Jukebox in excellent condition and other coin -op collectibles!
Aside from Vintage Tech; Carla Elmore had a tremendous variety of garden collectibles, flowers, plants & primitives for Mother's Day Collectors and decorators!  Collectors were amazed at the large variety of great treasures thru-out the show; from antiques, collectibles, primitives, advertising, estate jewelry, movie memorabilia, garden collectibles, civil war items, art & oil paintings, old metal signs, and much more on over 1000 tables, plus dealers in tents and open-air!
As Bob Zurko of ZURKO'S Midwest Promotions stated it's, "RETAIL-THERAPY" at its finest for treasure hunters, old and young alike!  Everyone likes to shop for fun or profit!  Whether you are searching for Vintage Technology or Antiques, Collectible, bargains, fleas or fun; you can find it all at ZURKO'S Midwest Promotions; Markets & Special Events!  Large crowds attend the monthly Grayslake Markets!
The airing of this special event at ZURKO'S Market is scheduled for a fall release FOR International viewing.  As always, each ZURKO'S market is an event that every collector, dealer & decorator looks forward to; their many markets & special events in Illinois, Wisconsin & Michigan. Happy Hunting!  NEW Vendors are ALWAYS welcome!
To view more photos, please click here: https://mailchi.mp/zurkopromotions/press-releasebig-crowds-abound-at-zurkos-massive-grayslake-antique-vintage-market
For a complete schedule of ZURKO MARKETS & EVENTS near you, go to www.zurkopromotions.com or call 715-526-9769. Fax 715-524-5675 or write ZURKO Promotions, 115 E. Division, Shawano WI. 54166