Windy City Coin Op & Antique Advertising Spring Show April 17, 18, & 19, 2020 has canceled
April 18, 2020 @ 9:00 am

-

April 19, 2020 @ 5:00 pm

$7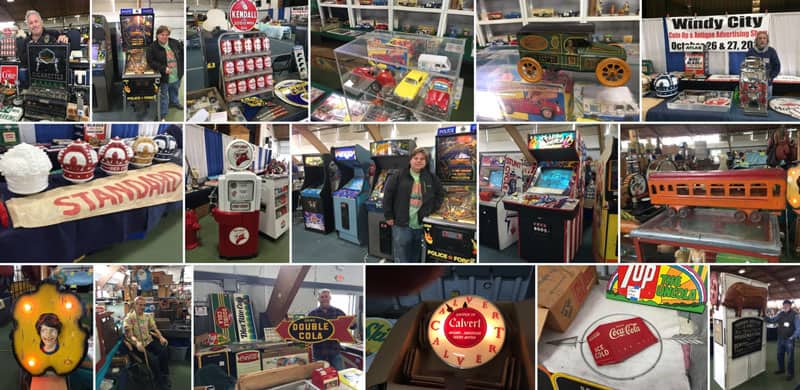 The spring Windy City coin show has been canceled due to the recent order from the Governor of Illinois regarding the coronavirus. 3/12: "Gov. J.B. Pritzker on Thursday ordered the cancellation of all public events with more than 1,000 people until May 1." Please call our office at 715-526-9769 for more information.
The Windy City Coin Op and Antique Advertising Show April 17, 18, & 19, 2020 at the DuPage County Fairgrounds, Wheaton, Illinois!
Admission includes both the Windy City Coin Op show in Building one and Windy City Bottle show in building 4.   Both shows will include antique advertising!
Visit the Windy City Antique Bottle and Advertising Show + Windy City Coin Op Show and experience an array of antiques and collectibles!. Venture through booths from dealers across the country, featuring coin op machines, antique advertising signs, bottles, jars, tin containers, toys and more. You may find items such as antique goods from old country stores, drug stores, barbershops, saloons, auto shops, oil and gas companies and other historical shops. This Windy City show will include tables and booths full of antiques, collectibles and more, making it a delightful show in the Midwest.
Items for sale may include: antique bottles, petrolina, advertising, antiques, breweriana, insulators, ephemera, jars, signs, coin op machines, jukeboxes, slot machines, cash registers, and more!
The 2020 Windy City Antique Bottle & Advertising Show + Windy City Coin Op Show will be held at the DuPage County Fairgrounds, 2015 Manchester Rd., Wheaton, IL 60187 –just minutes from the Pheasant Run Resort!
Early bird buying on Friday (times and admission price to be announced)
Saturday 9am to 5pm
Sunday 9am to 3pm
Saturday and Sunday Regular admission: $7 (good for both days). Children 12 years and younger free with adult.
Free Parking!
https://windycitybottleshow.com/