Article & photos by Zurko Promotions & Michelle Goltz (Auction Action)
Zurko's New Windy City Coin-Op and Advertising Show Draws a Large Crowd of Energetic Buyers & Elated Sellers
The DuPage County Fairgrounds hosted the 1st Semi-Annual "Windy City Coin-Op & Advertising Show & Sale" on March 30th and 31st, 2019. Aisles filled up quickly as enthusiastic buyers and collectors rushed in to find treasures for their collections.
The original show of this type began here many years ago. With something for everyone; at affordable prices, this pop-culture event featured many areas of collecting for the large crowd of astute buyers, collectors and dealers, who attended this popular event.
Fun Childhood Memories Return at Zurko's Windy City Coin Op and Antique Advertising Show
The two buildings were full of affordable treasures with something for everyone, including collectible/vintage slot machines, penny arcade games, lots of antique advertising, Petroliana, neon, jukeboxes, cash registers, great toys (old and collectible), country store, video games, breweriana, trade stimulators, gumball machines, old telephones, vintage comics, old bottles, signs and a host of weird and wonderful treasures!
Several organizations were represented, such as the National Cash Register Collector Association and the northern Illinois Antique Bottle Collectors Club and members of the Coin Operators Collectors Association.
Wow, "Lots of Slots"; as one collector/customer stated! The "Cream of the crop", in slots was a Jennings 1946, 10 cent slot 'Club Chief' for $3,500 in Ed Marzec's fabulous booth; along with gas pumps and globes, plus great old Standard Oil signs and memorabilia.
Jim Hodge had an eclect variety of the unique and unusual, highly desirable collectibles including an 'Allen-Hersler' carved & metal 1930's Carousel Top Rim Head for $300 and a really unusual 1930's jointed/sitting lifelike mannequin for $750. He had a variety of old toys including a 1920's Trolley car with original paint.
Jay Booker from Florida had a terrific selection of old advertising including a 'Drink Double Cola' 1939 self-framed sign from Chattanooga, TN for$1,150. He also displayed an almost mint 'Drink Double Cola' sign for $775 and a new/old stock Calvert Pam clock with the original box for $750.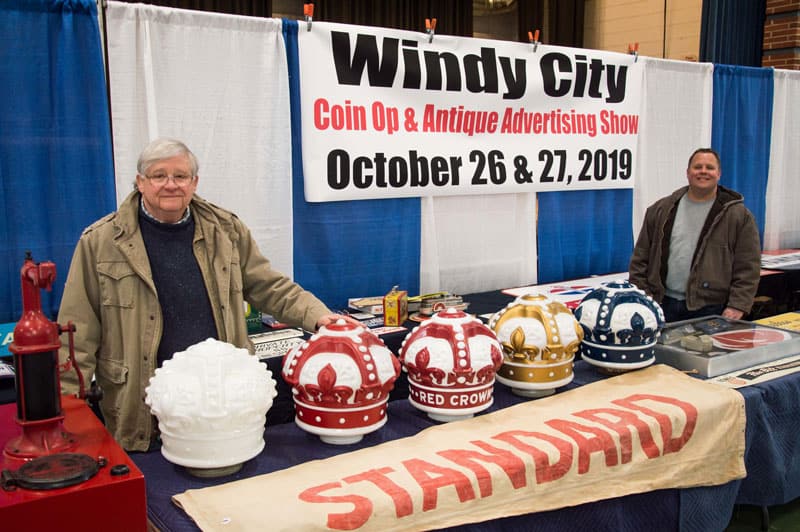 Randy from Fry's Antiques from N.Y. had toys galore in his majestic booth. One of the toys included a 1916 Chein/Fancy Grocery Market delivery truck (all original) for only $595. Adding variety to quality, he dis-played for sale a 1933 Chicago 'Century of Progress World's Fair' tapestry for$595, plus tons of toys!
Allen Berg of Allen's Restoration-Services was busy giving free estimates and taking orders for restoration of everything from slot machines to toys to cars and more!
Not to be outdone, Walter Scott had an awesome hand-painted gaming wheel, rare Appalachian Folk Art chairs with display and stand. Also, an 1860's carved pig by "Jas Brimble", $3,500.
Don Thorsen from Ohio brought an awesome display of video games, including a rare 'Captain America' for only $1,500. Plus, a Police Force pinball classic for $2,000.

Tom & Nancy Actipes of IAANA had a super variety of telephones from $15 to $200+. They had an awesome pay phone that was set up for home use. A real working treasure that would add charm to any decorator's heart. Their selection of old cameras and projectors was second to none!
"Antique Toy World" publisher and editor Dale Kelly brought complimentary copies of his fabulous magazine to be given free for dealers and collectors. That was a real treat!
All in all, the 1st Semi-Annual Zurko's Windy City Coin-Op and Advertising Show was a resounding success with dealers from over 10 states and customers from throughout the Midwest, nationally and internationally!
Bob Zurko stated, "This show was a truly high-energy event with happy dealers and customers alike! The Fall Show is a highly anticipated event with more fun and great collectibles for everyone!"
The next Semi-Annual show is October 26th & 27th, 2019 at the DuPage County Fairgrounds, Wheaton, Illinois. A special designated "Car Corral" will be available for vintage and collectible cars to buy, sell, show and trade.
The designated hotel for the special annual event will be the Iconic Pheasant Run Resort in St. Charles, Illinois, only minutes away from the DuPage County Fairgrounds. For discounted room rates collectors and dealers can call Pheasant Run Resort at 630-584-6300.
Show hours for this mega-event are: Early Buyers Friday: Noon to 6 PM/$50, Saturday 9 AM to 5 PM, Sunday 9 AM to 3 PM. Regular admission: $7 (good for both days). Children 12 years and younger free with adult. Free Parking. The DuPage Fairgrounds is located at 2015 W. Manchester Road in Wheaton, Illinois, 60189. Only 35 minutes from O'Hare. As always at Zurko Events, tour buses and new vendors are welcome!
For additional information on this and other Zurko Promotions events, call or write Zurko Promotions, 115 E. Division, Shawano, Wisconsin 54166; 715-526-9769; Fax: 715-542-5675 or visit: www.windycitycoinopshow.com
Fall 2019 Windy City Of Chicago Coin Op And Advertising Show(Opens in a new browser tab)